Home
Michael "Winkey" Aweau
Welcome to my website. I'm just a ordinary guy who likes birds, and to hobby around. This is my newest project. My wife thinks I sometimes try and over think things. I dont think so, well maybe, but not really.

Here you'll find lots of pictures of my grandson and maybe some other artsy photos. I like to think I have a little talent for taking a photograph.

There mabe be a little info from my wife from time to time, while I am over thinking something she tries to cope. She likes to read and cook, so you could find a book chat, recipes, household hints & some random thoughts she thinks are important.

At all times remember that this is a work in progress.
________________________________________________
I would like to try and list e-mail addressees to as many of the family that will get them to me. So send me your e-mail address and web site address with your name and address. If you don't mind it being published on this wed site
Aweau

Vincent
Blackwell
Sharps
Boyett
Bragg
Give me some more to put on …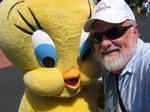 Me and Tweety .....Tweety is the one on the left
Please sign the Guest Book ... your visites make it more exciting to maintain the site and keep it going.
________________________________________________
Please
Send me more information to improve this web site ... your e-mail addresses ... comments ... suggestions

Thank You
________________________________________________
Peggy's Corner
If I can get her to write somethings